For this post, I'm mostly going to let pictures do the talking ... If you are in London over the next few weeks, please try to see the Félix Vallotton exhibition, on until 29 September at the Royal Academy of Arts, Piccadilly. Here's why...
I'd been aware of this Swiss artist ever since viewing a few of his paintings on a visit to his native country some years ago. I was instantly taken with the work, although I never really put my finger on why. The best idea I think I could muster at the time was that there was a sense of eeriness that drew me in. It wasn't that something wasn't quite 'right' with them - on the contrary, I think many of the paintings are beautiful, with an instant appeal. I can only say that in some of the images, it felt like I wasn't looking at a purely 'normal' scene; I was seeing through distant, detached eyes.
So I was thrilled to see that the Royal Academy were mounting an entire Vallotton exhibition - and doubly intrigued to find they had subtitled it 'Painter of Disquiet'. Because there was no better word than 'disquiet' to finally nail the feeling I had on first seeing his pictures back in the day.
Apparently Vallotton regarded himself as something of an outsider, even within his own Parisian artistic circles (perhaps he always felt the new arrival). But you can draw lines from this innate 'apart-ness' into certain features of his art. For example, I was astonished by how many of his images feature doors and windows that give a slight imbalance to the composition, as though inanimate voyeurs of the scene taking place.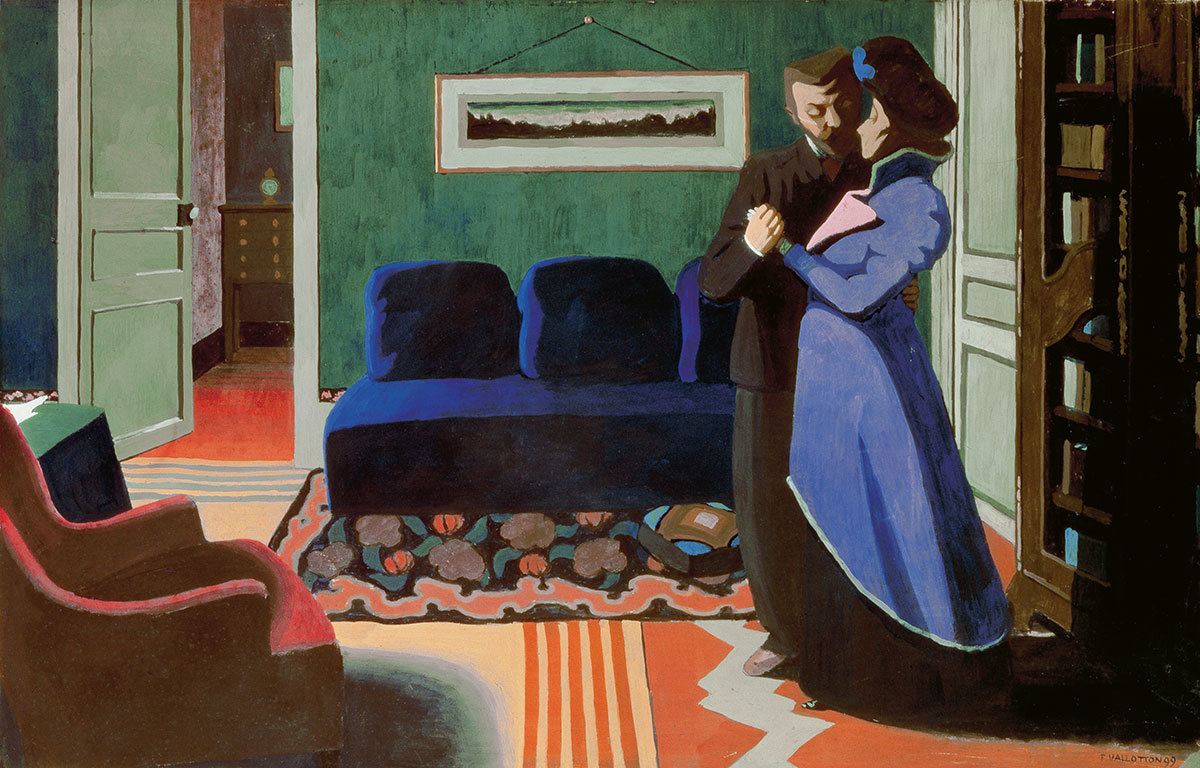 And this extends to his astonishing woodcuts (the exhibition makes the case for Vallotton as a print-maker extraordinaire - and I would agree - despite the artist eventually deciding that painting was his true calling).
As the above picture shows, Vallotton wasn't afraid of the dark - thematically as well as aesthetically. The killer is a black void in bright surroundings, only matched for shade by the drawn curtain.
Even when there is no door or window, Vallotton often seems to use darkness in this way to suggest a kind of ominous presence, or all-seeing-eye. The exhibition notes flag up the shadow which seems to follow the little girl chasing the ball. (And I wouldn't mind knowing what the two characters top left are doing there, too.)
I think 'Money' is one of the most impressive woodcuts in the whole collection. The woman tries to stay engaged with the light (an off-centre window, of course), but the predatory male brings enveloping darkness with him, through whatever suggestion - or indecent proposal - he's making.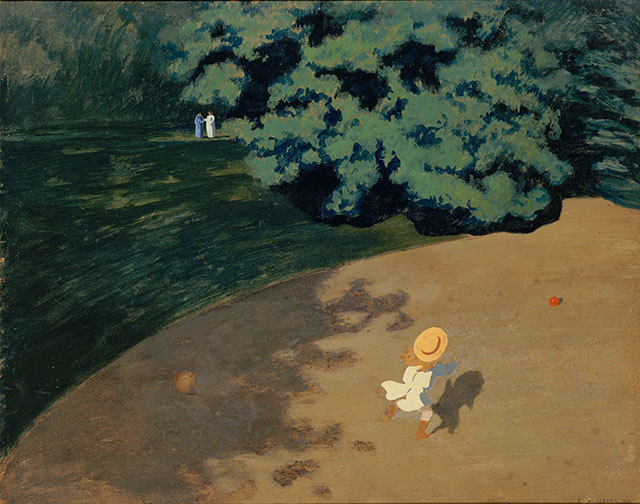 For all the sinister overtones, Vallotton's apparent detachment surely contributed to his talent for giving some of his woodcuts a satirical 'cartoon' life, which in some cases seems to flip over into untarnished, even generous affection. The musical instruments series is a masterclass in visual wit. And perhaps one of the most straightforwardly pleasing images in this vein is 'Laziness' - a gloriously busy and intricate display of patterns, calmed by the serene white expanse of the nude subject. She (along with her cushions) brings the relaxed curves to the hard-edged straight lines of the throw on the couch or bed. (Also worth noting that the picture includes a cat, which I include in the hope that this will now surely go viral on the internet.)
While I found his woodcuts arrestingly original, as a painter, Vallatton seemed initially a bit of a magpie to me/ It's interesting to imagine him picking up stylistic features - a Degas-reminiscent dancer here, a Hodler-shaped cloud there - as though one might pick up an accent.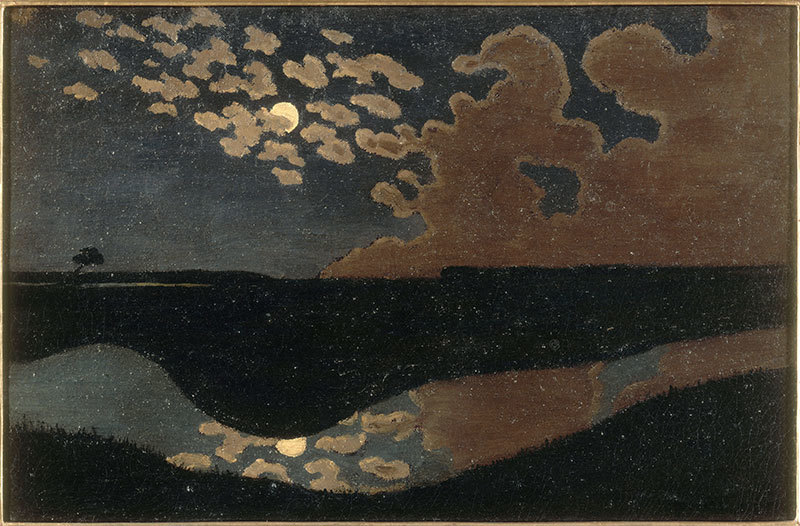 ...But the results always carry a slightly offbeat 'twist', whether it's the point of view, colour palette or choice of subject. One of the great achievements of the exhibition for me was that, whatever Vallotton turned his hand to, by placing his whole career together in this way, we can see the evidence of a single mind at work throughout. Even if corners of that mind remain elusive, unknowable.